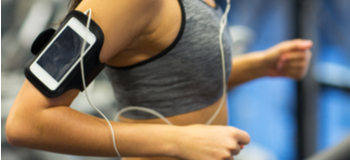 With a multitude of fitness apps already on the market, it's hard to know which piece of fitness equipment will be compatible with them.
We have a large selection of fitness equipment at Achieve that can track your progress while you work-out as well as fitness equipment that connects directly to your fitness app.
Here is a selection to get you started…
Treadmill
The newly released Sole F85 Treadmill is already an award winning 'Best Buy' machine and incorporates the largest running deck that Sole offers, an exceptional 22" wide running surface and 2.75" rollers making this treadmill truly comfortable for any type of user.
This model has up to six auto programs and two user-customised workouts. It now includes bluetooth capability allowing users the freedom to transfer workout data from their fitness equipment to their smart device.
The F85 can handle users weighing up to 400 lbs and users can download and track their information on the Sole app for free, or have their fitness data transferred to any of the following fitness apps such as Fitbit, Record, Mapmyrun and Apple Health.
The Sole F63 Treadmill is another Bluetooth machine which also allows you the freedom to transfer workout data from your fitness equipment to your smart device with the suggested apps listed above but at a more cost effective price.
Elliptical Cross Trainer
The Sole E35 Elliptical Cross Trainer is ergonomically designed for comfort during your full body workout.
It has a whisper quiet drive system functions in both forward and reverse motion combined with a heavy 13kg flywheel and a high gear ratio means an extremely smooth feel with plenty of resistance at the top end for a machine that will provide a challenging workout.
The fully adjustable ramp angle helps you to individually target and work all major lower body and upper body muscle groups.
Stationary handle bars with built-in pulse sensors for monitoring your heart rate. A heart rate chest strap is also included for hands free pulse monitoring and heart rate interactive programs.
Again, this machine allows you to transfer workout data from your fitness equipment to your smart device. Track your fitness info on the Sole app, or have your data transferred to other compatible fitness apps such as Fitbit, Record, Mapmyrun and Apple Health.
Exercise Bike
Recumbent bikes are becoming the latest trend in the exercise world and the Sole R72 exercise bike is leading the pack.
The Sole R72 is new to New Zealand and helps those with joint issues and supports the lower back.
Programs such as hill and strength will help users reach goals or you can set up your own designed programs with the "User Defined" feature or Heart Rate Control.
Along with fans and MP3/iPod capability the R72 will allow users to consistently and safely push themselves to the next level.
For extra information on any of the above machines or warranty / delivery details, feel free to contact our experts.